Feet up, kettle on, and relax in your new home 8 weeks sooner
YouConvey supports you and your conveyancer to get the job done quickly. Helping you move up to 8 weeks faster, and without having to chase for updates!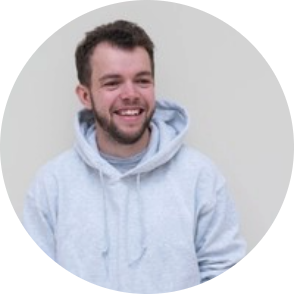 I felt like I was in total control of my house move. I always knew what stage we were at - I didn't have to call and chase my solicitors or estate agents once.
Luke, Manchester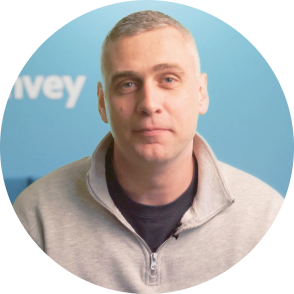 Being able to do the admin work myself was a real timesaver. We shaved off a whole 8 weeks of our house move. I couldn't rate YouConvey more highly.
Mike, Chester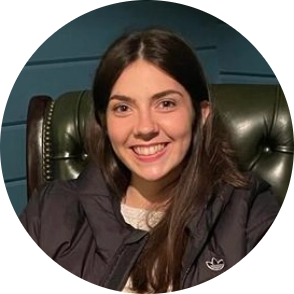 Just the amount of time you save from stressing by using YouConvey is enough! But we also managed to save 5 1/2 weeks off our house sale. Super quick, great service.
Megan, Liverpool
You take control of admin tasks, leaving your conveyancers to concentrate on the legal work. We ensure all legal administration is carried out quickly and efficiently.
Working together to get you ready to move as early as possible
With YouConvey, you will:
Be assigned one of our hand-picked conveyancers.
Take control of your conveyancing by completing the easy admin tasks yourself.
Save up to 8 weeks of waiting time so you can move home as soon as possible.
Receive advice and support on your transaction throughout the process from friendly YouConvey staff.
Be allocated a Home Mover Advisor who will ensure that our solicitors complete the conveyancing in the quickest time possible.
The old way vs. YouConvey way
Buying a house is notorious for being one of life's most stressful experiences. Important paperwork gets lost in your inbox. You lose track of progress in long email chains. End up calling and emailing estate agents daily for updates.
Introducing YouConvey (just what the industry needed!). Everything is handled through our simple online portal, making it easier to access information, get sale updates and sign documents to speed up the process.
YouConvey removes the waiting time
All the paperwork you need to sign is ready and waiting for you on the portal. It's then shared instantly with your conveyancer once signed to shorten waiting time.
Support from the YouConvey team
YouConvey is involved throughout the sale. We liaise with the Conveyancers to provide you with frequent updates. We're on hand at all times to help and guide your sale.
No need to keep refreshing your email inbox.
With YouConvey
Without YouConvey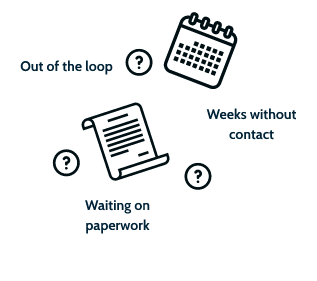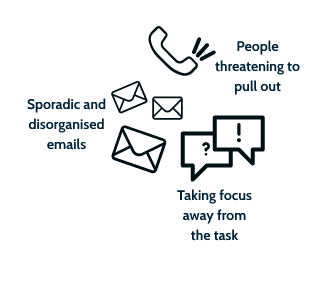 Overworked conveyancers & estate agents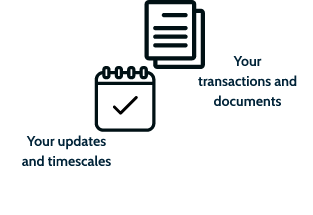 More focus time for conveyancers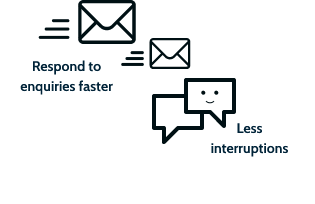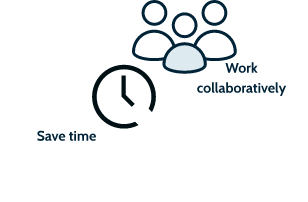 Fill out the form below and one of our Home Mover Advisors will be in contact with a quote.
Do I need to appoint a solicitor/conveyancer?
As part of YouConvey, we assign one of our hand-picked solicitors to your case. So there is no need to appoint your own.
What is the step by step process?
One of our Home Mover Advisors will call to talk you through our process and costs.
If you're happy to proceed, we will allocate a conveyancer to the case and provide you with all the property forms to complete on your online customer portal.
YouConvey liaises between all parties and chases outstanding enquiries.
You sign the eContract ready to exchange and confirm completion.
How does it save me up to 8 weeks of waiting time?
From day one with YouConvey, you will have access to all of the property forms that you can complete at your own pace. All contracts and documents can be eSigned and sent back the day you get them, removing the time it would take to print, sign, scan and send them back.
Additionally, your Home Mover Advisor does all the chasing for you to ensure you complete in the quickest time possible.
What's the cost?
YouConvey works with a hand-picked group of solicitors, so you will never pay more than if you approached our solicitors directly. That is because we have negotiated special rates for YouConvey customers. Our panel of solicitors are happy to do this as we are taking care of a lot of administration for them – leaving them to do their job of looking after the customer legally.