The housing market this year has been full of ups and downs to say the least. We started 2022 with unprecedented levels of demand from buyers, with homes selling faster than ever at record prices. 
Houses were being snapped up twice as quickly as they were in 2019, which is viewed as the last 'normal' year in the property market due to the effects of the Covid19 pandemic, plus asking prices in Great Britain rose by 5.6% to an average of £359,137 which was almost £17,000 higher than in 2021. 
From here on we saw the market begin to settle down after an extremely busy couple of years, and it appeared we were returning to a similar housing market we had seen in the years prior to the pandemic.
However, unfortunately market stability was not yet in reach, with the rise of interest rates meaning the consumer prices index stood at 11.1% in October,  which is the highest inflation the UK has faced in 41 years.   This increase in interest rates meant that mortgage rates also soared, resulting in some buyers putting their home moving plans on hold.
So, with all of this in mind, let's take a look at how the events of 2022 look to affect the property market in 2023.
Are house prices set to fall in 2023?
With asking prices having risen significantly this year, in 2023 it's forecasted that although the average asking price will still remain higher than it was after the extremely busy home-moving period of 2021, asking prices are predicted to drop by 5%. 
It can take some time for potential home movers to accept these pricing changes, however it is expected that this adjustment period will be quicker than usual, due to the scale of recent price gains. 
The below chart from Zoopla shows the short term over-valuation of house prices due to unfold over 2023.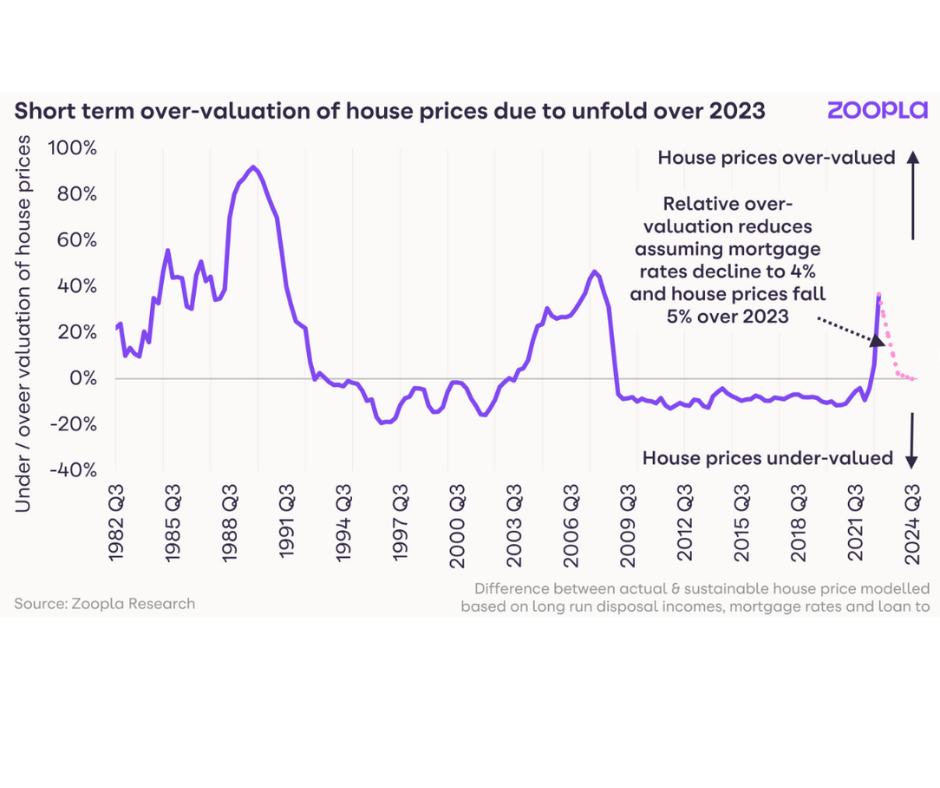 Whilst increasing mortgage rates have been a significant concern for home movers, it's necessary to recognise that average weekly earnings in the UK increased by 6.1% year on year in the three months to October 2022, showing the labour market remains buoyant. Additionally, cuts to National Insurance Tax cuts in July and November, paired with the government's support for energy bills will assist with offsetting some of the financial pressures that homeowners are currently dealing with.
Will where I live be affected by the predicted 2023 house prices? 
House price predictions are based on a national average, as prices differ across the country depending on a number of different factors. Depending on the desirability of the postcode, the varying properties available and buyer affordability, house prices can vary from street to street. 
You can use Rightmove's December House Price Report to find out what the current average asking price is where you live. 
Are mortgage rates set to fall in 2023?
Although the overall belief is that mortgage rates will begin to decline next year, it is evident that they won't return to the very low levels of recent years, and that home buyers must become accustomed to the new increase rates of 4-5% as these are set to become the norm for the future. 
One big unknown factor remains to be how much more banks need to adjust interest rates in order to bring inflation under control, and only time will tell, however stability in the UK's public finances is essential. 
What does this mean for homemovers? 
Whilst some homemovers are putting off their move until they feel more confident in the market, many have strong motivations for moving and are continuing with their agreed purchases. 
This December, views of homes for sale on Rightmove are up 11% when compared to the same period in 2021, which suggests a move is on the cards for people who are in a position to do so in 2023. 
Circumstances will vary for individuals, some may require more space and a home office due to many employees now working from home since the pandemic, or others could be downsizing and looking for homes that are cheaper to heat with the increased cost of living. 
Generally the property market for 2023 will be about homemovers adjusting to normal levels of mortgage rates and making decisions that best suit their lifestyle and financial situation. 
If you have any questions about moving house next year and need some free, friendly advice, get in touch with us today.